PECTAB for Rail Tickets
---
Date: Thursday, October 8, 2015
Whether you buy your rail tickets online, from the ticket office, or at a self-service kiosk, they always look the same. And in all likelihood, they come out of the same model of printer!

We've been working with the Newbury Data ND4020 and ND4030 printers for a couple of years now, integrating them into kiosk products to vend magstripe tickets and contactless cards (respectively). Consequently, one of the things we've become experts in is the "PECTAB" language, which is used to print ticket text.

PECTAB is a contraction of "Parametric Tables", and it works like a stylesheet for serial devices. Ticket printers contain a thermal print head just like in a receipt printer, but whereas those devices often need the KPL language to describe layout, here we use PECTAB to format a list of text lines. I think this goes to show the broad range of skills that are needed to build a feature-complete self service device!


There's not a great deal of information about rail ticket PECTAB on the web, with only snippets here and there about the airline ticket variant (which is quite different). As a result, the best strategy really is to consult prior integrators and experts like us. We've got a number of brains in our office who love to talk over this stuff, and we're eager to power your next ticketing project.

Naturally, as developers, we had to build a tool which let us rapidly test different PECTAB designs. That's why myself and new developer Ankit built 'Pectabber' (pictured). This means we can rapidly iterate on designs according to your needs. Not only that, but our connections to rail industry web services like SilverRail mean that we can produce standard-compliant tickets without an minute of original design work being done.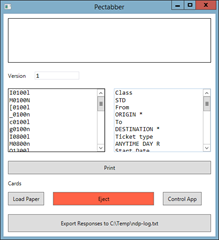 Are you creating a new ticketing product for rail or any other industry? Do you want the benefit of the hardware and software expertise which we bring to the table? Well, we're thinkingahead@villagesoftware.co.uk; just get in touch for more information!