There's definitely a chilli in the air ...
---
Date: Thursday, August 15, 2019
The pressure of being a judge is not to be underestimated. Not exactly to RHS standards but by carefully ignoring all the various subterfuge plots, and following the rules set out, winners were selected:
Village Green Award, for the most verdant Chilli plant, including leaves, flowers, fruit.
Village Giant Award, for the largest sum of unsupported height from soil and natural width of foliage.
Village Sympathy Award, for the saddest living plant.
The consolation prize was the easiest to select.
The other two were in danger of causing if not world war III, some seriously disappointed faces!
Winners were:
Village Green Award: Paul and his chilli 'Dennis' 
Village Giant Award: James and his chilli 'Lenard'
Village Sympathy Award: Tom C and his aptly named chilli: '☹'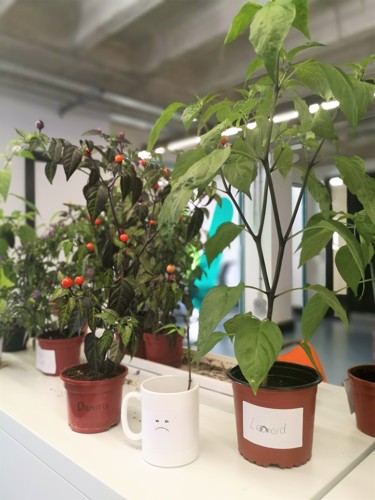 The proof of the pudding, as they say, is in the eating and one little red berry packed a pretty good punch!