It's not just the weather that's getting hot
---
Date: Friday, August 2, 2019
Our Village chilli challenge is well underway!
Windowsills are packed with flourishing plants and some have little warming UV lights. So if you happen to spot the lights we're not working through the night or growing anything more suspect, we're nurturing and caring for our chilli plants.
Not wishing to force the tender plants and subject them to judgement too early in their development, the final has been postponed for two weeks. This will allow them time to flourish and develop; their roots will be stronger and their fruit bearing potential more visible.
We've come up with three winning categories which are:
Village Green Award, for the most verdant Chilli plant, including leaves, flowers, fruit.
Village Giant Award, for the largest sum of unsupported height from soil and natural width of foliage.
Village Sympathy Award, for the saddest living plant.
If you're wondering about the rules of our little contest or want to give it a go at your office, why not take inspiration from ours:
You can grow up to three plants.
You must not take the plant home: it has to be grown at the office.
Chemicals and mutation(?!) are allowed.
Using grow lights are allowed.
You can't stick needles into someone else's plant.
You can use your own seeds.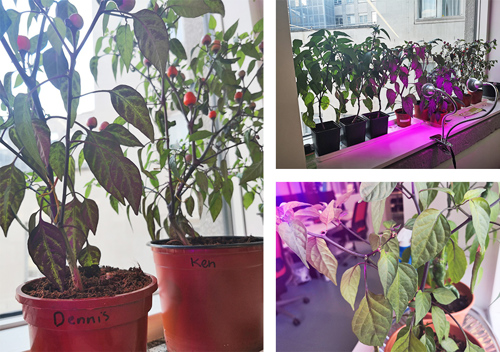 Winner to be announced soon…