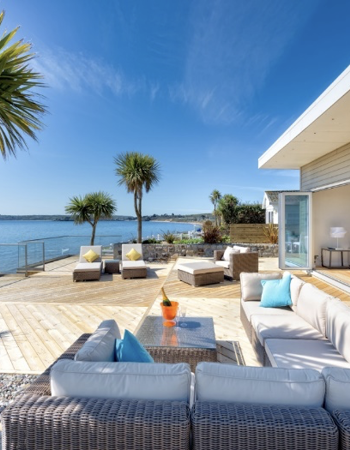 Client: Haulfryn Ltd
Industry: Leisure
Project Location: The Warren Resort & Spa, Abersoch
What we did: Bespoke Software for Enterprise Systems and Data Integration 
Haulfryn Holidays is a family-owned business established over 85 years ago. They own and manage a luxurious collection of both residential and holiday parks across England and Wales including The Warren Resort & Spa in Abersoch on the Llyn Peninsula, North Wales.
Village Software Engineering was appointed by Haulfryn in 2022 to develop a software solution to extend the service capabilities of the 'My Haulfryn' portal for holiday home owners at The Warren Resort & Spa. 'My Haulfryn' is a dedicated portal for owners to access essential information regarding their holiday or residential home.
Village Software were tasked with developing the capacity of 'My Haulfryn'' to provide lodge owners with an enhanced level of self-service experience and support in relation to membership services.  This included the ability to:
book sessions in the exclusive The Warren Spa and Works Lounge
benefit from discounted purchases in Sandbar and other on-site eateries
register friends to provide them with access to The Warren's facilities
The Solution
---
Village Software created a bespoke software solution which provided owners with an enhanced level of self-service and customer experience via 'My Haulfryn'.
Integration of several platforms was enabled via a series of APIs (Application Programming Interfaces), as follows:
My Haulfryn – the company's website portal
Contentful – the company's headless Content Management System (CMS).
Zonal – the resort's customer discount and loyalty management system.
Trybe – the bookings system for the resort's spa and extensive leisure facilities.
Stripe– the online payments platform
SALTO – the door/gate access management system via a SALTO-enabled digital photo-pass QR code as a PDF or Apple Wallet Pass
ANPR – automated numberplate recognition
'It was great to co-create The Warren's exclusive membership solution with the team at Village who were very responsive to implementing our complex requirements and delivering a solution fitting of The Warren's first-class standing with our owners.'
- Sam Churchill, Haulfryn's Head of Technology
About Village
---
Village Software Engineering design and build incredible software solutions with the single aim of improving your business.
Our team of innovative and skilled developers work across many sectors including leisure, manufacturing, education, transportation and logistics, healthcare, utilities and retail.  
We provide application development, enterprise integration and business intelligence software solutions that embrace leading edge technologies and methods. We are a Microsoft Gold Partner.  
We apply curiosity and intelligent thinking to deliver quality solutions supported by exceptional customer care.